A Detailed Guide On Torrent Proxy
Are you a die-hard fan of torrenting and struggling hard to find a way to do it safely?
Well, you must consider using a torrent proxy server. Starting from hiding IP addresses to keeping the malware at bay, the right kind of torrent proxy server will make everything possible.
Wondering how it works and how you can get started? Don't worry. This post is the best assistance that a new proxy server can ask for.
Torrenting – The Tangerine We All Want
It's hard to buy every software, entertainment content, or music. All of these come with a price tag. However, none of us want to miss the fun they bring.
So, how can one fix it? We have torrenting, an online tool that lets anyone download/share resources free of cost over an internet connection.
Technically, torrenting is the process of uploading and downloading content/resources with the help of a P2P or Peer To Peer Network.
Here are a few torrenting statistics to keep in mind.
Starting in 2001, torrenting soon took the internet world by storm, as nearly 70% of traffic was coming from torrent sites by the end of 2009.
Around 178.7 million unique internet users used BitTorrent, a famous torrent client, to download torrents, says Creative Future Study.
In 2017, a study revealed that nearly 50% of torrenting users downloaded torrents on desktops.
Millennials are most involved the most in piracy and torrenting.
US, Russia, and India are the top three piracy or torrenting-supported countries.
A lot of internet users prefer to torrent with a VPN.
The above text shows that torrenting is very famous and is ruling over the internet. But it's illegal and violates copyright law. Torrenting is legal as long as you're not involved in downloading/uploading the copyrighted material.
Copyrighted resources are generally 'paid.' If you're getting them via torrenting without paying the cost, you're breaking the copyright law. If caught, you can be behind bars or have to bear a hefty subscription as per your country's copyright law. This tweet explains it better.
Torrenting itself is not illegal, usually its the not for resale/unpaid for content being transfered thats illegal.

— $₩☆NK F$%#! (@swankfrank) April 23, 2022
It's too risky, nonetheless.
The files or torrents available on torrent sites may be infected with viruses or malware. It's not sure that it's coming from verified sources. Hackers often plant infected torrents on torrenting sites to get a target.
As per recent research, devices involved in torrenting or pirated content downloading have a 28% higher chance of being attacked by malware or viruses. So, you can't download any torrent and think of having a pleasant experience.
All in all, torrenting is something that you can't avoid or accept completely.
You have to be extra cautious while getting involved in it.
Here are a couple of useful links for those who love torrenting:
Torrent Proxy – A Possible Solution
One can use a torrent proxy to fix all the above-mentioned torrenting hassles and make torrenting a safe task. Using one tool helps torrent users to hide the IP address, extract the malware, and reduce the risk of tracking. Let's learn more about this tool.
What is a Torrent Proxy?
A torrent proxy is nothing but a proxy server that supports torrenting ( about the best proxies here). It could be any proxy server capable of maintaining online security and hiding the user's identity entirely so that no one can figure out that the user is involved in torrenting. An ideal torrent proxy server must have the following:
Strong IP leak protection
The facility offers dynamic, dedicated IP addresses
Adopted zero-log policy
The assistance of the socks proxy server as HTTP is not a torrenting-supportive protocol.
Unmatched IP address masking abilities.
Superfast speed so that download can happen quickly.
The assistance of security tools like malware blockers, anti-virus, and military-grade encryption so that the perils of torrenting could be avoided altogether.
If the torrent proxy you're trying to use has all these facilities, you must go with it.
Why Use A Torrent Proxy?
With an extra torrent proxy, you can have ultimate peace of mind while trying your hands at torrenting. Here are reasons that compel one to use a torrent proxy without fail for torrenting:
If torrenting copyright material isn't legal in your region, ensure that your IP address is not traceable. It's the IP address that lets anyone know about your location and activities. With a torrent proxy, you have a chance to hide the actual IP address and stay safe.
When you use a proxy torrent and connect to a torrent client like Vuze or BitTorrent, the communication between you and the torrent client will occur using a fake or dummy server. The end-user IP won't be involved at all. This way, it's hard to track the person involved in torrenting.
When you add a torrent proxy between you and the torrent client, you double–up your connection security. Most of the torrent proxies are packed with features like military-grade encryption, ad-blocker, and anti-virus software. This way, your connection becomes more secure and less prone to attacks and threats.
In case you want to improve your cybersecurity:
Quick downloads
When compared to VPNs (learn about VPN services here), torrent proxies let you download torrent files quickly as encryption is not very heavy and traffic filtration isn't too much.
Reliable paid torrent proxies come with no-log policies, so they do not maintain logs. There is no reason to get worried.
Not every torrenting site is accessible in every region. However, that shouldn't be a reason for limited content accessibility. With torrent proxies, people have a chance to bypass the censorship or geo-blocking imposed on torrenting sites and access everything they want to access.
When all these benefits are there, it's hard to ignore the importance of a torrent proxy for a hardcore torrenting lover.
Why SOCKS5 Proxy Servers Are Best For Torrenting?
When you try to learn more about proxy servers, you'll find out multiple types of proxies. But, experts recommend using a SOCKS5 proxy for torrenting and nothing else. Why?
Reasons are:
SOCKS5 works at layer 5 of the OSI model: When a proxy server is working at Layer 5 (session layer), there is no need to get involved in request or response rewriting. It saves effort. Also, they are not protocol-specific. You can use these services for almost everything, such as gaming, browsing, streaming, or file transfers.
It supports optional authentication: As we all know, the better the security, the safer the torrenting. Other than SOCK5, no other proxy server type supports additional authentication. SOCKS5 is a torrent proxy that lets the torrent user ensure that only verified users access it.
It improves the end security.
SOCKS5 proxy servers don't transport the whole hypertext data, making it faster than others.
Best 5 Torrent Proxies To Use In 2023
After reading the above text, we're sure that you've grasped the fact that if you want to enjoy safe torrenting, using a torrent proxy, especially a SOCKS5 proxy, is the best possible solution. So, the next thing that you should start working on is finding the best options available.
Gladly, we did the hard work for you. Here is a list of top torrent proxies you can use in 2023 and beyond for a highly hassle-free torrenting experience.
1 – BrightData
BrightData is another very famous name in the torrent proxy industry, as this proxy provider offers speeding proxy servers that are utterly secured and optimized.
Facts About BrightData
Over 70 million IPs
24/7 customer support
Free trial with zero recurring charges
Why is BrightData on our list?
It is a one-stop solution for all your proxy-related needs. Here, you will high-performing SOCK5 proxies with generous features. It's a great torrent proxy as it maintains online secrecy and collects data anonymously from any geolocation (learn about anonymous browsing here). While you use it, there is no fear of being exposed or facing an IP leak, as it won't move you out.
With 99% uptime, this proxy server provider keeps its promise of the high speed that is required for torrenting.
Pros
Unlimited bandwidth
Buffering free experience
SSL 256-bit encryption for all traffic
Unlimited connection
Cons
The browser extension for Edge is not available.
Rating – 3.5/5
Verdict by VPNWelt
BrightData is a trusted name in the proxy server industry. Its SOCK5 servers are fast and high-performing. It is worth a try.
2 – OxyLabs
OxyLabs is a world-famous proxy service provider winning hearts with its exceptional services. Here, you will get every type of proxy under one roof — for instance, mobile proxies, residential proxies, data center proxies, and so on. But, as only SOCK5 proxies are torrenting-friendly, we will focus on OxyLabs's offering at the SOCK5 front. Well, you'll get nearly 2 million SOCK5 proxy IP addresses.
Facts About OxyLabs
Over 2 million SOCKS5 proxies
188 countries are covered
Offers UDP connection
Easy integration
Why is OxyLabs on our list?
While you choose OxyLabs as a torrent proxy, you get to enjoy ample features. The one that we liked the most was the Stats Dashboard. In this dashboard, you get to know about your proxy usage. You can also whitelist the IP address and manage the account from one place. It makes torrenting management easier than before.
Its SOCK5 proxy IP addresses are very stable and reliable. The uptime is as high as 99.9%. So, you will not face much distraction. There are no restrictions on usage. You can use as many SOCK5 IP addresses at a time.
Its SOCK5 proxy pool growth is expanding every day. So, whether you need a torrent proxy for personal or business use, all your needs will be catered to here.
Pros
24/7 live support
Various premium features
Copyright infringement monitoring is possible
Cons
You have to purchase a minimum of 100 IP addresses.
Rating – 4.5/5
Verdict by VPNWelt
OxyLabs knows what it takes to make torrenting safe and offers the best possible assistance at a cost-effective price.
3 – NordVPN
NordVPN is a renowned VPN that one can easily use as a torrent proxy with SOCK5 servers. With more than 5,000 servers spread worldwide, it ensures that torrenting lovers from every nook and corner of the world can enjoy safe torrenting. Redditors were found promoting it too.
Facts About NordVPN
More than 5,000 servers in 60 locations
P2P optimized servers
An advanced protocol like NordLynx
Multiple subscriptions and the basic one starts from $3.99/per month
30-days money-back guarantee
Why is NordVPN on our list?
NordVPN is one of the best choices one can make, while secured torrenting is the aim. This VPN cum torrent proxy server is compatible with all the leading torrent clients such as Vuze, uTorrent, BitTorrent, Deluge, and many more.
There are detailed set-up guides are present on the official website. As far as the quality and excellence of its SOCK5 servers are concerned, we must admit that it's the best in the market as all of its servers are RAM-DISK bare metal servers.
Such servers are known for blazing speed and no data logging. Hence, you'll be able to download torrent files quickly and safely. It's true that not all servers are SOCK5 servers. But, all of its servers are P2P optimized and are backed with top-notch security.
The best thing about NordVPN's SOCK5 proxy servers is that they are highly customizable and will help you add features as per your requirements.
The security offerings are the best of the breed because military-grade encryption is in place. To make things more secure, you have the facilities of ad blocker, kill-switch, and IP address leak. In short, there is nothing that can hard you as long as you're using NordVPN as a torrent proxy.
It's compatible with all the leading OS and offers dedicated browser extensions. So, you have the freedom to enjoy torrenting from anywhere. A money-back guarantee ensures you have nothing to worry about while giving it a try.
Pros
Great device compatibility
No IP and DNS query leak
Audited zero log policy
Multiple protocols are supported
Cons
No one-click SOCK5 activation facility offered
Rating – 4/5
Verdict by VPNWelt
NordVPN has already proved its excellence in the VPN industry (learn about the best VPNs here). When torrenting is concerned, it brings the best features at an affordable cost. Don't think twice! Just go with it.
4 – PIA or Private Internet Access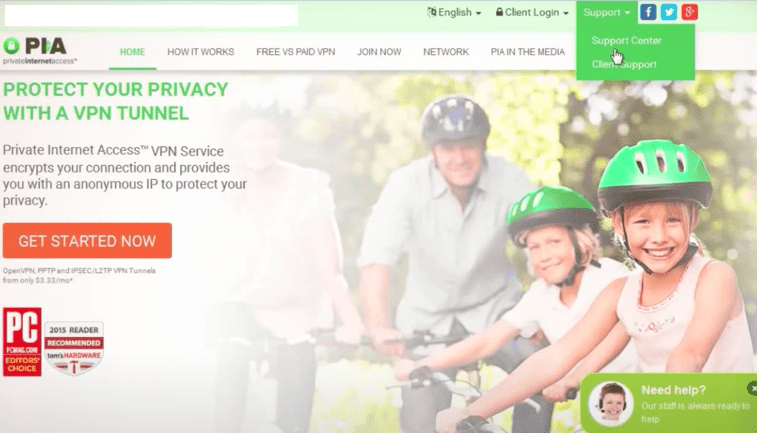 Those who have a deeper understanding of the VPN industry must be aware of the fact that PIA is one of the first VPN services that started offering support for P2P sharing. It supports torrenting on all its servers, and it's a great thing, as confirmed by a Twitter user.
I recommend getting Private Internet Access for a VPN, turn on port forwarding, connect to a PIA server with port forwarding, and use BiglyBT for torrenting. They have a VPN helper plugin. I know my ISP watches my connection like a hawk

— Redjoker ☭ | 天龙 | 👻 | 🇮🇪🤝🇵🇸 | 🐬👽☢️ (@redjokerzero) February 23, 2022
Facts About PIA
3,100+ servers in 24 countries
5 simultaneous connections
30-days money-back guarantee
Compatible with Windows, macOS, Linux, Android, iOS, Playstation, Xbox, router, game consoles, and SmartTVs.
Why is PIA on our list?
Even though PIA is a VPN, it supports torrenting by all means. It has SOCK5 servers at certain locations. Regarding data security, you have nothing to worry about as long as PIA is by your side. It supports AES-256-bit encryption and ensures that no IP address leak is there.
If data log policy is concerned, we must praise PIA for its boldness. It has denied the FBI's request to access specific customers' information. With its cost-effective subscriptions, you'll be able to get SOCK5 proxies at an affordable cost. It works with most of the leading devices.
Pros
GCM ciphers and the RSA-4096 certificate
Torrenting support on every server
Zero IP and DNS leak
Cons
Rating – 3.8/5
Verdict by VPNWelt
PIA is going a great job as a VPN and a torrent proxy. As all of its servers are P2P optimized, you'll undoubtedly have a tremendous torrenting experience.
5 – TorGuard
TorGuard is a leader of torrent proxies for many reasons. For instance, it keeps your online identity hidden – no matter what. There are dedicated Firefox (VPN for Firefox) and Chrome extensions available (VPN for Chrome). The cherry on the cake is the 7-day free trial (premium VPNs with a free trial).
We're not the only ones singing in praise of TorGuard. Before us, veterans like Forbes and PCMag have also patted its back. Tweeters couldn't ignore it either.
Love TorGuard it has never let me down

— Tracey Smallwood#80aDay (@TraceySmallwoo5) May 6, 2022
Facts About TorGaurd
More than 3000 elite IPs
50 countries supported
It starts from $9.95 monthly
SOCKS5 Proxy Support and HTTP/SSL Proxy Support
Why is TorGuard on our list?
Well, once we extensively tested it, we figured out the reasons.
Along with a proxy server, it also offers a highly anonymous VPN facility with a proxy server. Its IP masking abilities are so strong that no one ever finds out the real IP address of a torrent user. To take your torrenting experience to a whole new level, TorGuard offers so many features and facilities. For instance, there are P2P-optimized servers across the world. Their setup isn't a challenging task.
You can also check whether or not your IP address is leaking by using the free IP leak test tool offered.
With TorGuard, you can enjoy port forwarding. Ports above 2048 are compatible with it via OpenVPN, WireGuard, and OpenConnect.You get a dedicated IP address with this torrent proxy within a few minutes of enrolling.
You can easily use this torrent proxy on all the leading OS, such as iOS (VPN for iPhone), macOS (VPN for Mac), Windows (VPN for Windows), Android (VPN for Android), and Linux (VPN for Linux). The Android and iOS apps are free to download from their respective app download store.
There are set-up guides provided. Referring to them is enough to get started. If you still have trouble using a torrent proxy, contact its customer support, which is very responsive.
As it's a zero-log torrent proxy, you can sigh in relief as no one else will be able to lay hands on your online activity data. However, there is one thing that irked us the most. We haven't found any records of third-party audits. So, nothing can back its claim of security and zero-log.
Expect this, everything about TorGuard is impressive, and you can't afford to ignore it.
Pros
Offers unlimited bandwidth
Customer support is responsive
Strategically-picked server locations
Cryptocurrencies accepted for payment
Cons
Ratings – 4.8/5
Verdict by VPNWelt
With TorGuard, torrenting is safe and hassle-free. Cryptocurrency support is an excellent move that it has made. Unlimited bandwidth is a great way to have peace of mind, as you'll never run out of bandwidth.
Free vs. Paid Torrent Proxy Services
Just like anything, torrent proxies are offered as paid and free services. As a user, one might find it difficult to determine which option is best. Well, without giving it a second thought, we suggest you go with paid proxies.
We understand that free services are very tempting. But, they are also very dangerous as they lack essential services and are famous for creating tons of hassles.
Here is what one might experience with free torrent proxies:
If you want to enjoy torrenting without any hassles, then the only way is to have diverse IP addresses so that you can switch them frequently. However, free torrent proxies cannot pull this off as they don't have a wide server network.
Torrenting, if not allowed in your region, needs to be kept a secret if one doesn't want to be hand-cuffed by law. The only thing that will make others know whether or not a person is involved in torrenting is the IP address. But free torrent proxies aren't able to prevent IP leaks. Once you access a torrent website, the whole world will be able to find out what you're up to.
By no means a free torrent proxy will be able to provide you with a powerful malware blocker, which is essential when one is involved in torrenting. As mentioned above, torrent websites are hubs for viruses, hackers, and malware. And, if you fall into the trap of any one of these, there will be no end to your misery.
It's a very common issue with free torrent proxies. They log the user data and sell them to third parties to make a profit. But, a torrenting user can't afford this as it can lead to serious legal issues.
See, it's clear that having a free torrent proxy is nothing but a headache. With a paid torrent proxy, you enjoy the best security and secrecy. If you want a peaceful torrenting experience, nothing is better than a paid torrent proxy.
If cost is the concern, the ideal way is to avail of a free trial and money-back guarantee if you're not a frequent torrent user. But, if you torrent a lot regularly, it's better to go with a long-term subscription to help you save a considerable sum of money.
From time to time, paid torrent proxies launch offers and coupons. Keep an eye on them and avail them to save a few more bucks.
How To Setup a Torrent Proxy?
We have no qualms about admitting that the life of a torrenting lover will become easier than ever if the right kind of torrent proxy is by its side. But we also want to clarify that using a torrent proxy demands some labor at its set-up front. So, it's crucial to learn how to set up a torrent proxy.
To begin with, understand that the primary requirements are the IP address of the torrent proxy and the port number. Authentication is optional.
Setting up a proxy becomes easy when the torrent client offers a built-in proxy setting. BitTorrent, Vuze, Deluge, uTorrent, and Tixati are examples of such torrent clients.
As uTorrent is a very famous torrent client, we'll learn about the torrent proxy set-up to solve the 'how to torrent through a proxy mystery.' Before that, ensure you have the torrent proxy server installed and connected.
Setting up a torrent proxy on uTorrent
As we all know, uTorrent is a multiplatform torrent client that works wonderfully on Microsoft Windows, Linux, macOS, and Android. You can easily change the proxy settings in uTorrent and set up a torrent proxy. But, this is not possible in uTorrent Web and uTorrent Mobile. However, uTorrent Desktop classic and uTorrent Pro come with an in-build proxy configuration.
Let's get started.
To set up a torrent proxy in your Windows, go to "Options > Preferences > Connection > Proxy Server. In this section, you'll be able to select the proxy type. You must enter SOCKS5, the proxy IP address, and the port details. Mostly, SOCK5 uses port 1080. Depending upon the torrent proxy you're using, you need to enter the authentication details as well.
Ensure that the "use proxy for peer connections" and "disable connections not supported by proxies" options are checked.
Go to uTorrent's Connection window and check on the box mentioned ahead of the "Use proxy for hostname lookups" option. Also, ensure that the client forwards DNS queries to the SOCKS5 proxy. This prevents DNS leaks.
Check "Use proxy for peer-to-peer connections" and check everything under "Proxy Privacy."
Once settings are added, apply changes and click on "Ok." Restart your torrent client.
What Should a User Do If a Torrent Proxy Is Not Working?
If your torrent proxy isn't working, the possible fixes are:
To check whether or not you're connected to SOCK5 servers. Nothing else works.
Disable "Auto-detect proxy settings for this network." You need to set the torrent proxy server settings manually.
Clear cache, as it will help you get rid of corrupted scripts.
Contact customer support if nothing works. There could be technical glitches from the service provider's side at times.
Best Torrent Sites To Access With Torrent Proxies
In the previous section, we told you how to configure a proxy, how to check if the torrent proxy is working, and what to do when it is not working. As we have reached the end of the post, let's get familiar with the best torrent sites that you can access in 2023.
Note: The availability of these torrenting websites depends upon the location. One site will work at one location while won't respond at another. However, using a torrent proxy will fix this issue. Hence, we suggest you use a torrent proxy first and then access these torrent sites.
The Pirate Bay: The veteran among torrenting sites, The Pirate Bay is indeed the best choice to make when one needs to access good quality torrents. Everything from movies to music is present on this website. You can't ignore its huge library.
RARBG: As per the latest data, this torrent website receives around 40 million monthly visitors. This number is huge, and we can relate to it completely as this torrent website offers books, movies, TV shows, music, and software.
1337x: If you're interested, go with 1337x, as this torrent website has a vast library of classic and new releases, TV shows, and movie titles.
Limetorrent: If you're looking for an alternative to Kickass torrent, then go with Limetorrent, as this torrent site works and offers quality content. But don't forget to use a torrent proxy, just like Kickass torrent proxy, to stay safe and access geo-blocked content.
EZTV: This is one of the best torrent sites for TV shows that we have in 2023. Almost every famous TV show is on the website. Quality is also very decent.
Besides these, you may also use the proxy Paige torrent.
Conclusion
It's hard to stay away from torrenting. But it's foolish to invite unwanted hassles without using a torrent proxy. With the right kind of torrent proxy, you torrent safely. So, get yourself one and enjoy safe torrenting.
Related articles:
FAQs
Can I Use Free Proxies for Torrenting?
As mentioned above, it's not a wise move to make. With free torrent proxies, you get nothing as you pay nothing. The worst part is that you might end up losing what you already have while using a free proxy, as you can be a victim of a phishing/virus/malware attack or end-up selling crucial data.
Can I Use HTTP Proxies for Torrenting?
What does my proxy setting need to be on for Kickass Torrent to work?