5 Best VPN for Android That Work in 2023
Whether you want to improve your online security on your Android phone while on public Wi-Fi or bypass geo-restrictions, you will be on the lookout for the best VPN for Android.
Choosing a VPN for Android phones or a VPN for iOS is not an easy task, especially today when there are so many VPN service providers.
Can You Use a VPN on Android?
Yes, you can use a VPN on Android. You can set it up manually or download a third-party app that will make your Internet browsing safer and more secure. To do so, you need to sign up, download a VPN app to establish a VPN connection, and you're good to go.
To help you with choosing a reliable VPN, we've tested more than 20 VPN providers and come up with the following list of rooted and non-rooted Android devices.
There are feature-rich VPNs for Android devices that come with a 30-days money-back guarantee and free trial.
How To Choose The Best Android VPN App?
VPN or Virtual Private Network needs no introduction as this tool has become a synonym for improved online security and privacy.
Being attentive and informative are two imperative tools for choosing the best Android VPN app.
It must be user-friendly and, most importantly, support your Android OS version. Check whether the VPN license covers all other devices as well. Security features can't be overlooked. An in-built kill switch, zero DNS leak, and no-log promise are a must. Don't get lured with free VPNs for Android, as nothing good comes for free.
What Is the Best VPN for Android?
NordVPN – Best Rated VPN for Android
Kill switch: Yes
Unblocks: Netflix, Amazon Prime Video, BBC, Pandora, and others
Torrenting: Yes
Netflix: Yes
Usability: 5/5
NordVPN secured the top position on my best-rated VPN for Android list for many reasons. It's a renowned VPN service provider officially based in Panama. NordVPN's network is vast, consisting of over 5,800 servers located in 62 countries.
Speed
NordVPN delivers fast and stable speed. On a 100 Mbps internet connection, I got 74.15 Mbps to download and 50 Mbps speeds. All of its VPN apps maintain this decent speed.
Security Privacy
NordVPN takes user security and privacy very seriously. It relays user data package through 2 VPN servers, making it virtually impossible for anyone to decipher it. NordVPN comes with the OpenVPN tunneling protocol and 256-bit AES-CBC encryption, which is the industry standard.
Torrenting
NordVPN is torrent-friendly and provides ultra-fast speeds for torrent downloads. Android app displays the list of torrenting-optimized servers for easy VPN connection establishment.
Netflix
NordVPN successfully bypasses Netflix geo-restrictions, allowing users to stream their favorite Netflix TV shows, movies, and documentaries.
Final Verdict
NordVPN, as an Android VPN solution, is going to bring a lot to the table. Uncompromised security, a dedicated Android app, a free VPN app, detailed assistance of Android users via the app, a secure VPN tunnel, and a free download from the Google Play store are some of them.
With its multi-facet security, it is capable of protecting network traffic, Wi-Fi network, or private network. Its streaming and torrenting-optimized servers make your experience a bit more advanced (VPN for streaming). You can switch to multiple IP addresses easily.
ExpressVPN – Fastest VPN for Android
Kill switch: Yes
Unblocks: Netflix, HBO, and Amazon Prime Video
Torrenting: Yes
Netflix: Yes
Usability: 5/5
ExpressVPN is a reliable VPN service provider that is also the fastest VPN for Android on the market. With a no-logging policy, over 3,000 servers placed in 94 countries, and the best security protocols, you can rest assured that your online safety and security will remain intact.
Speed
ExpressVPN delivers high speeds across many different locations, and this is the main reason behind its global popularity and acceptance as a good Android VPN. The download speed ranges from 40 Mbps to the balancing 240 Mbps, while the upload goes from 18 to 46 Mbps. It all depends on your ISP, physical location, and server location.
Security & Privacy
ExpressVPN uses 256-bit AES encryption. The tests of its trial version, i.e., the fastest free VPN for Android, revealed no DNS or IP leaks, proving that it's a safe VPN for Android. Your public and private network data will be backed with best-of-security solutions. The end-to-end encrypted connection improves security a bit more.
Torrenting
ExpressVPN has excellent support for P2P, allowing users to download and upload torrents seamlessly.
Netflix
ExpressVPN works with Netflix. However, I've found that some trial and error is required, especially if you choose servers located in the US.
Final Verdict
In case you want to secure web traffic with a compatible mobile VPN, then ExpressVPN is a great choice to make. Many security experts have applauded many times for offerings like browsing the internet anonymously, securing public Wi-Fi, in-built split tunneling, wide-spread and feature-rich high number of servers, a dedicated VPN Android version, dynamic IP addresses, auto-blocking of phishing sites, decent connection speed, and responsive customer care.
But we can't deny the fact that it's pocket-heavy. One way to make it pocket-friendly is going for a long-term subscription that can grant you some free monthly usage.
AdGuard VPN – The Ultimate Solution for Android Privacy
Kill switch: Yes (except iOS)
Unblocks: Amazon Prime Video, BBC iPlayer, Disney Plus, Max and Hulu
Torrenting: Yes
Netflix: Yes
Usability: 4.8/5
When it comes to safeguarding your Android device and ensuring your online privacy, AdGuard VPN emerges as the ultimate solution. With a robust no-logging policy and a commitment to delivering top-tier security, it's the go-to choice for privacy-conscious Android users.
Speed
AdGuard VPN doesn't compromise on speed. Offering blazing-fast connections, it ensures your online activities remain smooth and seamless. Whether streaming, browsing, or downloading, you can expect consistent and impressive performance.
Security & Privacy
Your security is paramount with AdGuard VPN. Utilizing cutting-edge 256-bit AES encryption, it guarantees that your data stays shielded from prying eyes. Rigorous testing has confirmed the absence of DNS or IP leaks, reaffirming its status as a highly secure VPN for Android. Your online presence is protected with end-to-end encryption, enhancing your privacy.
Torrenting
AdGuard VPN fully supports P2P activities, enabling you to engage in torrenting with ease and confidence. Share and download files without compromising your security or anonymity.
Netflix
Enjoy unrestricted access to Netflix and other streaming platforms with AdGuard VPN. Whether you're in the mood for a movie night or catching up on your favorite shows, AdGuard VPN ensures you can do so without geo-restrictions holding you back.
Final Verdict
For those seeking the pinnacle of Android privacy and security, AdGuard VPN is the answer. It offers a comprehensive package, including anonymous web browsing, secure public Wi-Fi connections, built-in split tunneling, a vast and feature-rich server network, a dedicated VPN Android app, dynamic IP addresses, automatic protection against phishing sites, impressive connection speeds, and responsive customer support.
CyberGhost – Best VPN App for Android
Kill switch: Yes
Unblocks: Netflix, HBO, Amazon Prime Video, and BBC iPlayer
Torrenting: Yes
Netflix: Yes
Usability: 4.7/5
CyberGhost is a Bucharest-based company that has been on the market for 7 years. 15 million users, over 3,700 servers located in 30 countries, and the no-logging policy all testify to its success and trustworthiness. We've concluded in the end that CyberGhost is the best VPN app for Android, thanks to its usability and simplicity of the interface. It is way more cost-effective than any of the best free VPN Android because of the freebie troubles that are avoided with it. You can download its Android VPN app from Google Play Store without any cost.
Speed
During the test, CyberGhost didn't deliver consistent speeds. In fact, the variations were huge. On some servers, I was able to browse at a decent 50 Mbps, while on others, I couldn't go above 10 Mbps.
Security & Privacy
CyberGhost has a transparent no-logging policy. During testing, the connection for the best VPN for the Android free download trial that I was using was stable, and I didn't detect DNS or IP leaks. It offers multiple security protocols to choose from for improved privacy and security.
Torrenting
CyberGhost has an abundance of P2P servers that users can use to download and upload torrents.
Netflix
With state-of-the-art tech, CyberGhost successfully fools Netflix geo-restriction protocols and allows users to watch Netflix shows, despite their geographical region. The first thing that you'll notice while using Netflix and other online streaming platforms is its amazing geo-unblocking ability.
Final Verdict
CyberGhost is a beginner-friendly Android for VPN offering assistance like detailed tutorials, 24*7 customer support, transparent privacy policies, a super simple interface, and one-button installation.
Those who are pros at using VPN will be impressed with its extensive security features that include an in-built kill switch, dynamic IP addresses, RAM disk servers, and zero-log policies.
Private Internet Access – Most Secure VPN for Android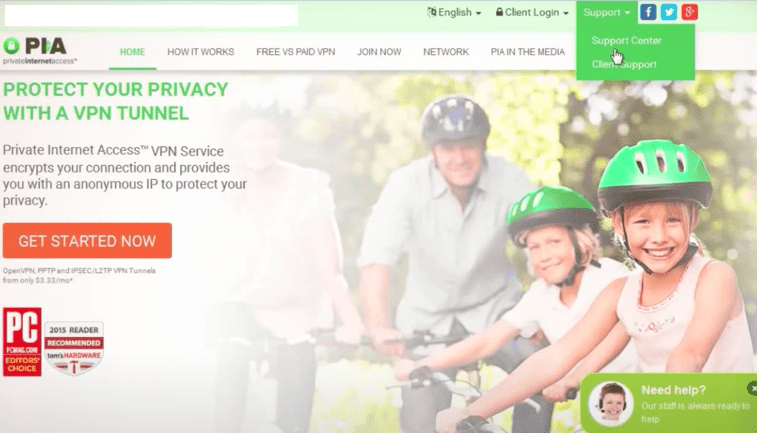 Kill switch: Yes
Unblocks: Netflix, HBO, Amazon Prime Video, and BBC iPlayer
Torrenting: Yes
Netflix: Yes, but not reliable
Usability: 4.5/5
Private Internet Access (PIA) is the US-based VPN most secure VPN for Android with over 3,000 servers placed in 33 countries. With 10 years of experience, it is one of the oldest VPN companies on the market.
Speed
PIA delivers consistent performance over its secure connection. The download speed average is 80 Mbps, while the upload speed average is 40 Mbps.
Security & Privacy
During testing, I detected no IP and DNS leaks. PIA has a strict no-logging policy and offers solid 256-bit AES encryption.
Torrenting
PIA allows its users to torrent. The company takes pride in offering dedicated P2P servers to ensure fast and consistent speeds, and that's not an empty boast.
Netflix
PIA VPN can unblock Netflix, and the company is continuously working on improving its Netflix-bypassing efforts.
Final Verdict
PIA is the world's most time-tested VPN for Android users with the highest number of servers. It's easy to use, cost-effective, utterly secure, and everything else that a trusted Android VPN should be. With a 30-day money-back guarantee, things are better than before. It works smoothly for Android versions above 5.1.
With unlimited bandwidth, it will let you enjoy the best browsing experience from an Android mobile phone.
What are the Added Functions of Android VPNs?
Android VPN is a great thing to have for people like journalists, politicians, and whistle-blowers who want to bring the truth or some hidden facts into the public's eyes without getting noticed or tracked. With the best Android VPN, they can easily hide their identity.
Students can take its help to get the content, software, and study material that is not easily accessible in their region.
Government agencies use top Android VPN to track criminals, communicate with others without leaving a trace in the virtual world, and ensure the safe transmission of files and documents.
Make your online banking transaction safer than ever. Banking and other crucial details can't be tracked by anyone when the best VPN app for Android is backing it. The visited websites will keep no logs.
What is the Best Android VPN Right Now?
After paying close attention to the features and facilities offered, we won't take a single moment to declare that NordVPN is currently the best Android VPN. Speed, security, server network, support, and everything else are excelled at a premium level with the help of this VPN.
ExpressVPN Android is a close contender of NordVPN and can be given a chance if you need a little bit more server coverage but are ok with trimmed security protocols. Its plans can be a bit pocket-heavy for a few. However, there is no way that you'll have speed issues. One must not look for a top free VPN for Android as even the best free Android VPN lacks at every front.
How Do I Download a VPN on Android?
Downloading a VPN on Android is as easy as pie. All you have to do is to take the below-mentioned steps:
Tap on the Play Store icon on your Android device.
Enter the name of the VPN in the search bar (for example, NordVPN, ExpressVPN, AdGuard VPN, Private Internet Access, or CyberGhost).
Tap on the Install button.
Your VPN app is now installed on Android and ready for use.
Ways to Set up a VPN for Android
Setting up a VPN on an Android device is easier than ever. Within a few simple steps, the job would be done. The only tedious thing involved is choosing the Android VPN app.
Once the Android VPN is picked, visit the official page and complete the sign-up formalities. It's a simple task and can be done by providing the email address.
Browse the plans and pick the right one.
Pay the subscription cost and activate the plan. Depending upon the Android VPN picked, one might have to enter an activation code received via email to activate the subscription.
Get the Android VPN app either from the. APK file or from the Play Store, complete the installation, set up the profile, and you're good to go.
Key Note
Before you spend your hard-earned money on the subscription, try availing of the free trial, if there is any. This is a great way to understand the nitty-gritty of VPN without spending a single penny.
Many people search for "How to setup VPN on Android free" and end up having a faulty free VPN. Free VPNs are nothing but a way to dupe you and take away some crucial information. So, it's better to go for the free trial than the free Android VPN.
Related Articles:
FAQs
Is there a free VPN for Android?
There is plenty of free VPN for Android. However, I don't recommend using them. They are often not as reliable, fast, and secure as the paid VPN for Android alternatives.
Providers that offer free VPN services alongside paid ones will often prioritize bandwidth and speed for paying customers. You can test all the best VPN for Android I've listed above without risking wasting money if you don't like the services.
While CyberGhost has a free Premium trial for one day, NordVPN and ExpressVPN have a 100% 30-day, and Private Internet Access a 100% 7-day money-back guarantee.
How can I fake my location on Android?
What are the best VPNs for Android tablets?
Can I use my Android VPN on my PC?