Best VPN for Roku TV in 2023
It is becoming crucial to secure your internet presence in a world that has fast turned digital. Using a VPN for your devices protects your streaming activities and the IP address from a third party.
Roku is one of the best streaming device owners globally; it is a premium service that syncs with your device, letting you watch paid and free video content on your device through the internet.
Roku comes with its hardware devices – the Roku players consisting of the Roku Ultra and the Roku Express. The Roku players also have a user-friendly remote that makes navigating the on-screen and controlling media easy.
Connecting your Roku to a VPN is like having the freedom to access other countries' content. And while It is not very easy to set up, if you want to access different country content at different times, you should have more than one Roku device.
Let's guide you through the process of using a VPN for Roku…
How Does Roku Work?
Roku devices have a pretty straightforward set-up, most of them requiring an HDMI port which would help with internet display and TV connection. All the devices support different apps and run on Android-based Roku operating systems. Roku media have not just devices but also channels and apps on smartphones, applications like YouTube, Netflix, Hulu, and others. Many of the Roku channels are geo-restricted, so you might be unable to access them in some countries.
That is where using a VPN comes in; VPN allows you to bypass blocked content, encrypts your internet traffic, and directs it through a remote server wherever you want. It will also give you a unique IP address that you can use to bypass geo-restricted content.
How VPNs Help To Stream Content On Roku?
Using Roku with VPN adds an extra layer of privacy to your internet activities, giving you total and exclusive access to your internet. Having a VPN for your Roku will:
Give you unrestricted access to geo-restricted content
Block anyone trying to access your data by encrypting your internet traffic
Actively prevent internet throttling
The operating system of Roku does not allow direct support for VPNs on its devices. This means using a VPN on Roku; there must be an intermediary set-up to help in the connection, like a Wi-Fi router. By doing so, you can use a VPN on Roku and different devices to connect to your VPN.
There are steps to adding a Wi-Fi router to your VPN before connecting it to your Roku:
Get a VPN-compatible Wi-Fi router
Set up the VPN on your Wi-Fi router and connect to the VPN
Build a VPN Wi-Fi hotspot on your device and connect it to your Roku
Connect your device to the VPN and screencast it to Roku.
After your Roku has been set and is VPN protected, internet services you couldn't access will become instantly open to you, and you will have a completely different IP address. And that makes it easy to stream other content from different parts of the world that you desire anonymously.
What Makes A Great Roku VPN?
When it comes to choosing a good VPN for your Roku media, it is essential to select a VPN that will:
Encrypt your data successfully
Give you smooth playback for streaming video.
Garner massive server coverage
Prioritize your privacy and security.
Have efficient and responsive customer support.
If you want to bypass geo-restrictions successfully, going for a premium VPN is essential, as it blocks your IP address and lets you connect to any server of your choice.
What is the Best Free VPN for Roku?
There are many free VPN apps for Roku, but most of them just come with private agendas causing severe risks to your internet security. It is possible to use a free VPN with Roku, but It is not recommended. You will find the list of trustworthy VPNs you can use without a doubt below.
Here Are the Top 7 VPN to Choose From
NordVPN
NordVPN is one of the best VPNs for Roku devices, with over 5000 servers in about 60 countries. It is the first VPN to consider if you want an efficient, super-secure video playback streaming service.
It unblocks YouTube, Hulu, Amazon Prime Video, Netflix, and BBC iPlayer.
NordVPN can effectively unblock streaming websites and have great super speed. It comes with Smart Play — a significant feature for unblocking, immediately giving you access to video content.
ExpressVPN
As its name implies, ExpressVPN is a reliable VPN for fast streaming and effective internet services. Every bypass measure is necessary to block restrictions on any video streaming service, especially Netflix, and ensure high-definition unlimited streaming.
ExpressVPN for Roku comes with a unique feature called media streamer. The media streamer lets you change the DNS setting of your Roku media without installing the VPN.
CyberGhost
The connection pace of CyberGhost is swift, and it means an incredible streaming experience on Roku. Solely dedicated to streaming different video content like Hulu, Netflix, and Amazon Prime Video, it is easier to pick out a server.
CyberGhost VPN has remarkably improved over the years, with over 5000 servers in almost 90 countries; it is one of the best VPNs with the most numbers of servers in the world. It also has excellent features, especially with its price, and comes with good privacy and fast speed.
Surfshark
Using Surfshark VPN for Roku means enjoying unrestricted access to geo-restricted content and better internet privacy.
As long as there is a hotspot that VPN protects, you can access Roku. It provides tight-proof encryption and lacks IP leaks, which makes you feel confident about your security. And with its mystification, it easily bypasses strict censorship.
Using Surfshark with Roku for video streaming will give you a reliable air-tight connection, an easy installation process, and reasonable speed.
PIA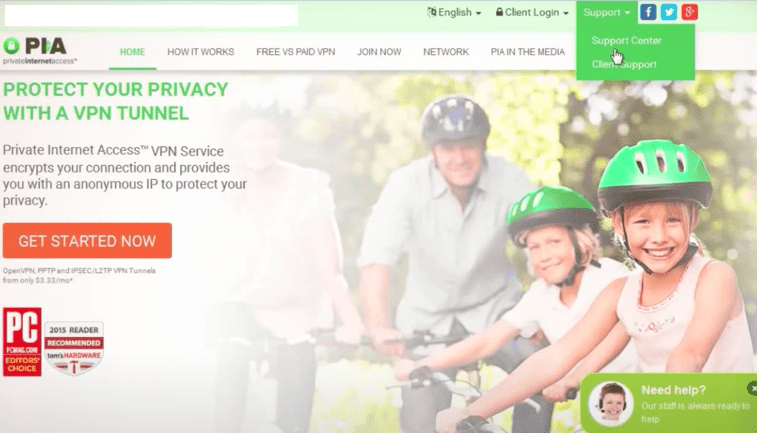 PIA VPN is the best VPN for people who cannot access content on their Roku devices, as it prides itself on its ability to unblock geo-protected content. When you cannot access your content due to licensing or other issues, you power on your Roku device, install any video content you want on it, enter your details, and voilà!
PrivateVPN
Because PrivateVPN has minimal servers in just a few countries, it is mostly overlooked. However, it performs reasonably well in terms of speed.
PrivateVPN does well in unblocking geo-restricted content. It is one of the cheapest VPNs, and when you have to sync it with your Roku device, you do not need to think twice about the price. And unlike other VPNs, you can get the most out of a short-term plan.
PrivateVPN is very security conscious and goes as far as creating a kill switch that disables your internet when there is a security risk or disconnection of the VPN. It also gives the IPv6 leak and DNS protection features.
Hotspot Shield
Hotspot Shield is a VPN service with millions of subscribers due to its free version that works well on unblocking content. It has no problems unlocking most streaming websites and is one of the fastest VPNs.
Although a bit complex to set up, the Hotspot Shield will work if you follow the guide. Using a Hotspot Shield for Roku devices, you can count on super-fast streaming services and safe internet access.
Roku is one of the most popular streaming devices on the market and is pretty easy to use. Syncing Roku to your device means accessing various streaming services like Hulu, Amazon Prime, Netflix, YouTube (YouTube Adblocker), etc.
However, to use these streaming services, you have to encrypt your network by using a VPN. Note that Roku devices do not directly support VPN, except if you use a router.
CyberGhost is easy to set up with a Roku device. This is primarily due to its vast number of servers worldwide.
Setting up a VPN will enable an instant, encrypted and safe connection to your devices. Here is a step-by-step guide to installing CyberGhost VPN on Roku.
How to install a VPN on Roku
If you are wondering how to create a VPN for my Roku or set up a VPN for Roku, this is an easy-to-understand guide to put you through. Please follow along:
Step 1
Many VPN services will work on Roku devices to satisfy your streaming needs and unblock geo-restrictions, but one of the easiest is CyberGhost. With a single account, you can simultaneously connect to up to 7 devices.
And like every other VPN, you cannot directly install CyberGhost on Roku. However, to install, you need to subscribe to the free trial or paid version, install the CyberGhost app, click on the internet connection icon and settings, click on the mobile hotspot on the left menu, and click on the share my internet with other devices.
Step 2
On the left menu, enter the status, change adapter options, right-click on the CyberGhost, tap adapter, then properties. Afterward, click on the CyberGhost, tap adapter, then go to the properties.
Step 3
Click the box next to "allow other networks to connect through this computer's internet connection" on the sharing tab. Select the previously selected hotspot and click ok.
Then, launch the CyberGhost app and connect it to a US server.
Now select Settings and then Network
Step 4
Choose Set up Connection and then Wireless
Step 5
Wi-Fi connections would appear in a list; you must select the hotspot you created using CyberGhost.
Enter your Wi-Fi password, and your Roku device should now be connected to CyberGhost.
Setting up a CyberGhost VPN on Roku is the best way to unlock video streaming websites like Netflix, Hulu, Amazon Prime, etc., without worrying about geo-restrictions and third parties.
FAQs
Can I use my Roku anywhere?
The only way to be able to use Roku anywhere is to use a VPN that unblocks geo-restrictions. The devices are mainly restricted to just their country of origin.
How to use a VPN with Roku?
How to set up a VPN on your router?
How do you install a VPN on Roku for IPTV?
What's the best VPN for Roku streaming stick?